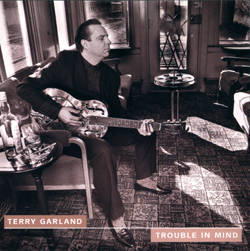 Buy a copy of Terry Garland's
Trouble In Mind
Trouble with Mine
The only trouble with mine is that I wasn't there when they did theirs.
Who are they, and when did they do this?
They are:
First of all, the Producers, Johnny O'Brien and Bruce Olson, probably wouldn't have wanted me there, although Bruce Olsen might have liked me a little better when he had his Engineer's cap on. But the important "they", of course were the
Musicians:
Terry Garland ...guitar, vocals
Mark Wenner ...harmonica
When they did it:
First Warning Records label has © 1991
---
     Every time I would listen to this record I would hear a missing bass. So one day (or two or three) I brought the CD tracks into a 4-track recorder and added what I heard. Following are the tracks I recorded. But, before you listen to them, I suggest you buy a copy of the CD and add your own bass parts.
The first 3 tunes I was just playin' along as if it was my album, then, you'll hear, I naturally became more interested in fitting in with what these two guys already did.
I also have 12 tunes of "Fess" (Professor Longhair) in Germany with me "on bass." But, of course, I was unable to get his upload okie-dokie. If you or anyone you know would like to hear these, let me know.
©2011 Marty Straub, Mello-Dee-O-Dough Music
Basssick Mp3s
©All music is copyrighted, and used with permission.