Full MIDI Version
Just the Bass
Just the drums

Jam with MIDI piano & drums.
Full Jam Chart

Full NoteWorthy Version
Download a free NoteWorthy Player
Pull up the notation with position markings. Compare the TAB version.
(both open in separate window)


This tune is basssickly a minor3 exercise. Listen to Dizzy Gillespie's 300+bpm BeBop or the more relaxed Monkey On A Limb by Johnny Hodges. You can also hear the same pattern in countless solos & many walking bass lines like So What. If anyone would like a bass-less jam of the whole tune, let me know. I'll make one and put it here for you to upload.
You're welcome, Ukno Hoowey R.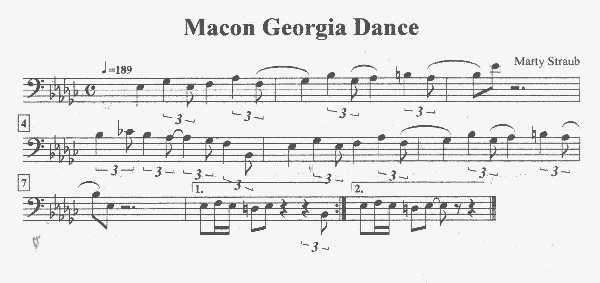 Go back to the Practice Clips.
©2003 Mell-O-Dee-O-Dough Music